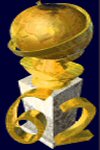 62ESIMA EDIZIONE DEI GOLDEN GLOBES - TUTTI I VINCITORI
17/1/05 - Beverly Hilton Hotel, Beverly Hills, California: Si è conclusa da poche ore l'attesissima cerimonia di premiazione dei GOLDEN GLOBES, giunta questo anno alla sua sessantaduesima edizione, da sempre prestigiosa vetrina pubblicitaria per i più illustri interpreti del piccolo e del grand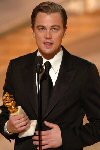 e schermo ed importante viatico alla magica notte degli Oscar. IN CAMPO CINEMATOGRAFICO The Aviator di Martin Scorsese interpretato da Leonardo DiCaprio si è aggiudicato 3 Golden Globes (su 6 Nominations) per la biografia forse eccessivamente buonista del miliardario produttore cinematografico e aviatore Howard Hughes: Miglior Film Drammatico, Miglior Attore Protagonista in un Film Drammatico a Leonardo di Caprio e Migliore Colonna sonora al grande compositore Howard Shore. Durante la premiazione DiCaprio ha dedicato la vittoria al bu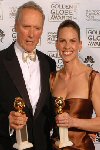 on vecchio Scorsese, definendolo << Una delle personalità che hanno dato di più nella storia al mondo del cinema >>. Successo annunciato alla vigilia anche per Million Dollar Baby di Clint Eastwood, vittorioso nella categoria Miglior Regista col grandissimo Clint Eastwood e Migliore Attrice Protagonista in un Film Drammatico alla bravissima Hilary Swank, e per il plurinominato (7 Nominations) Sideways di Alexander Payne che conquista anch'esso 2 Golden Globes alla Migliore Commedia e alla Migliore Scenggiatura, scritta da Alexander Payne e Jim Taylor. Il discreto ma sopravvalut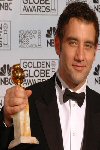 ato Closer di Mike Nichols si aggiudica 2 Golden Globes per il Miglior Attore Non Protagonista in un Film Drammatico e la Miglior Attrice Non Protagonista in un Film Drammatico, rispettivamente al bravo Clive Owen e alla bravissima Natalie Portman: chiaro trampolino di lancio per entrambi ed omaggio al grande vecchio Mike Nichols. Un esaltatissimo Jamie Foxx vince un meritatissimo Golden Globe (su ben 3 Nominations) come Miglior Attore Protagonista nella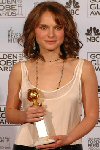 categoria Commedia/Musical per la grande interpretazione di "The Genius" Ray Charles nel film Ray. Annette Bening si aggiudica il Premio alla Migliore Attrice Protagonista nella categoria Commedia/Musical per Being Julia. Miglior Film Straniero all'ottimo Mar Adentro di Alejandro Amenábar con Javier Bardem. Migliore canzone al presente e quindi vincente Mick Jagger con "Old habits die hard" nel film Alfie, premio condiviso con David A. Stewart. Edizione all'insegna delle più classica SPARTIZIONE DEI PREMI CHE POSSA ACCONTENTARE TUTTI. Inevitabilmente, la più grossa delusio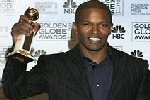 ne rimane l'esclusione dai Premi che contano per Kill Bill, per il suo geniale artefice Quentin Tarantino e per la straordinaria Uma Thurman. Assolutamente ignorato Eternal Sunshine Of the Spotless Mind di Michel Gondry con Jim Carrey e Kate Winslet. Premio alla carriera Cecil B. DeMille Award allo straordinario Robin Williams, tra i più grandi commedianti della storia del cinema,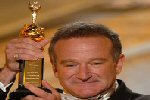 talento assoluto capace di trasmettere emozioni davvero uniche alle sue platee. IN CAMPO TELEVISIVO si affermano l'originale e coraggioso Nip/Tuck come Migliore Serie TV Drammatica, l'evento televisivo dell'anno Desperate Housewives come Migliore Commedia TV e The Life and Death of Peter Sellers come Miglior Film TV. I Golden Globes 2005 ai migliori protagonisti televisivi dell'anno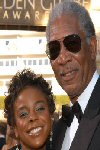 vanno a Ian McShane per Deadwood, Jason Bateman per Arrested Development, l'ottimo Geoffrey Rush per The Life and Death of Peter Sellers, Mariska Hargitay per l'amatissimo serial Law & Order: Special Victims Unit, Teri Hatcher per il successone Desperate Housewives. Premiate inoltre famose star del grande schermo: Glenn Close per The Lion In Winter, Anjelica Huston per Iron Jawed Angels e l'eterno "Capitano Kirk" William Shatner per Bosto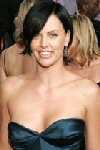 n Legal. Tra tutte le grandi celebrità presenti, la cerimonia è arricchita dalle straordinarie presenze del Governatore della California Arnold Schwarzenegger, dall'immenso Al Pacino, dalla meravigliosa Nicole Kidman, dalla verve di Robin Williams, Jim Carrey e Will Ferrell, dalla bellezze di Uma Thurman e Charlize Theron, dal fascino di Leonardo DiCaprio, Johnny Depp e Orlando Bloom, dalla classe di Dustin Hoffman, Morgan Freeman e Kevin Spacey, dalla presenza scenica di Sylvester Stallone che omaggia Clint Eastwood e dalle super guest star musicali P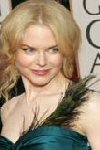 rince e Mick Jagger. 62esima Edizione dei Golden Globes all'insegna della sobrietà dei suoi protagonisti e della beneficenza nei confronti delle popolazioni del Sud-Est asiatico colpite dai tragici e tristemente noti eventi: la Redazione, unendosi al coro della solidarietà, sceglie di non soffermarsi, a differenza della passata edizione, sugli aspetti di glamour e costume dei Golden Globes 2005. Per ulteriori informazioni visitate i siti ufficiali inerenti alla manifestazione www.thegoldenglobes.com e www.hfpa.org.
GOLDEN GLOBES 62ND - TUTTI I PREMIATI
Picture - Drama
The Aviator
Closer
Finding Neverland
Hotel Rwanda
Kinsey
Million Dollar Baby
Picture - Musical Or Comedy
Eternal Sunshine Of the Spotless Mind
The Incredibles
The Phantom Of the Opera
Ray
Sideways
Actor In A Leading Role - Drama
Javier Bardem in The Sea Inside
Don Cheadle in Hotel Rwanda
Johnny Depp in Finding Neverland
Leonardo DiCaprio in The Aviator
Liam Neeson in Kinsey
Actor In A Leading Role - Musical Or Comedy
Jim Carrey in Eternal Sunshine Of the Spotless Mind
Jamie Foxx in Ray
Paul Giamatti in Sideways
Kevin Kline in De-Lovely
Kevin Spacey in Beyond the Sea
Actress In A Leading Role - Drama
Scarlett Johansson in A Love Song For Bobby Long
Nicole Kidman in Birth
Imelda Staunton in Vera Drake
Hilary Swank in Million Dollar Baby
Uma Thurman in Kill Bill (Vol. 2)
Actress In A Leading Role - Musical Or Comedy
Annette Bening in Being Julia
Ashley Judd in De-Lovely
Emmy Rossum in The Phantom Of the Opera
Kate Winslet in Eternal Sunshine Of the Spotless Mind
Renée Zellweger in Bridget Jones: The Edge Of Reason
Actor In A Supporting Role
David Carradine in Kill Bill (Vol. 2)
Thomas Haden Church in Sideways
Jamie Foxx in Collateral
Morgan Freeman in Million Dollar Baby
Clive Owen in Closer
Actress In A Supporting Role
Cate Blanchett in The Aviator
Laura Linney in Kinsey
Virginia Madsen in Sideways
Natalie Portman in Closer
Meryl Streep in The Manchurian Candidate
Director
Clint Eastwood for Million Dollar Baby
Marc Forster for Finding Neverland
Mike Nichols for Closer
Alexander Payne for Sideways
Martin Scorsese for The Aviator
Screenplay
The Aviator written by John Logan
Closer written by Patrick Marber
Eternal Sunshine Of the Spotless Mind written by Charlie Kaufman
Finding Neverland written by David Magee
Sideways written by Alexander Payne, Jim Taylor
Original Score
The Aviator composed by Howard Shore
Finding Neverland composed by Jan A.P. Kaczmarek
Million Dollar Baby composed by Clint Eastwood
Sideways composed by Rolfe Kent
Spanglish composed by Hans Zimmer
Original Song
"Accidentally In Love" from Shrek 2
Music and Lyric by David Bryson, Adam Duritz, David Immergluck, Matthew Malley, Dan Vickrey
"Believe" from The Polar Express
Music and Lyric by Glen Ballard, Alan Silvestri
"Learn To Be Lonely" from The Phantom Of the Opera
Music by Andrew Lloyd Webber, Lyric by Charles Hart
"Million Voices" from Hotel Rwanda
Music and Lyric by Jerry Duplessis, Andrea Guerra, Wyclef Jean, Lyric by Wyclef Jean
"Old Habits Die Hard" From Alfie
Music and Lyric by Mick Jagger, David A. Stewart
Foreign Film
The Chorus from France
House Of Flying Daggers from The People's Republic Of China
The Motorcycle Diaries from Brazil
The Sea Inside from Spain
A Very Long Engagement from France
Cecil B. DeMille Award
Robin Williams
Television Series - Drama
Deadwood
Lost
Nip/Tuck
The Sopranos
24
Television Series - Musical Or Comedy
Arrested Development
Desperate Housewives
Entourage
Sex and the City
Will & Grace
Mini-Series Or Television Movie
American Family — Journey Of Dreams
Iron Jawed Angels
The Life and Death Of Peter Sellers
The Lion In Winter
Something the Lord Made
Actor In A Leading Role - Drama Series
Michael Chiklis in The Shield
Denis Leary in Rescue Me
Julian McMahon in Nip/Tuck
Ian McShane in Deadwood
James Spader in Boston Legal
Actor In A Leading Role - Musical Or Comedy Series
Jason Bateman in Arrested Development
Zach Braff in Scrubs
Larry David in Curb Your Enthusiasm
Matt LeBlanc in Joey
Tony Shalhoub in Monk
Charlie Sheen in Two and a Half Men
Actor In A Leading Role - Mini-Series Or Television Movie
Mos Def in Something the Lord Made
Jamie Foxx in Redemption
William H. Macy in The Wool Cap
Geoffrey Rush in The Life and Death Of Peter Sellers
Patrick Stewart in The Lion In Winter
Actress In A Leading Role - Drama Series
Edie Falco in The Sopranos
Jennifer Garner in Alias
Mariska Hargitay in Law & Order: Special Victims Unit
Christine Lahti in Jack & Bobby
Joely Richardson in Nip/Tuck
Actress In A Leading Role - Musical Or Comedy Series
Marcia Cross in Desperate Housewives
Teri Hatcher in Desperate Housewives
Felicity Huffman in Desperate Housewives
Debra Messing in Will & Grace
Sarah Jessica Parker in Sex and the City
Actress In A Leading Role - Mini-Series Or Television Movie
Glenn Close in The Lion In Winter
Blythe Danner in Back When We Were Grown-Ups
Julianna Margulies in The Grid
Miranda Richardson in The Lost Prince
Hilary Swank in Iron Jawed Angels
Actor In A Supporting Role - Series, Mini-Series Or Television Movie
Sean P. Hayes in Will & Grace
Michael Imperioli in The Sopranos
Jeremy Piven in Entourage
Oliver Platt in Huff
William Shatner in Boston Legal
Actress In A Supporting Role - Series, Mini-Series Or Television Movie
Drea De Matteo in The Sopranos
Anjelica Huston in Iron Jawed Angels
Nicollette Sheridan in Desperate Housewives
Charlize Theron in The Life and Death Of Peter Sellers
Emily Watson in The Life and Death Of Peter Sellers
GALLERIA FOTOGRAFICA